Labor Market Intelligence
Labor Market Intelligence Update
As the October 2019 unemployment rate for the Coastal Bend region decreased -0.1% over the month to 4.0%, the demand for workers across all industry sectors has increased!
According to the latest Jobs Report from WorkinTexas.com, employers from the Coastal Bend are looking to fill over 7,000 jobs in the regional market. Coupled with the Corpus Christi Metropolitan Statistical Area's (MSA) unemployment rate dropping to 4.1%, the Coastal Bend is primed for regional growth to meet employer demand.
Of the over 7.000 jobs currently available in WorkInTexas.com there is a great array of occupations for job seekers of all skill sets. Entry-level occupations in the fast food industry such as Food Preparation and Serving Workers are hiring today for seasonal and full-time work. If you are a young adult looking for part-time work or a job seeker looking to begin a career in the foodservice industry, now is the time to visit WorkinTexas.com to begin exploring these job openings from many of our valued employers.
Take a look at the Top 10 Occupations currently for hire in WorkinTexas.com:
1.  Registered Nurses
2.  First-Line Supervisors of Food Preparation and Serving
3.  Retail Salespersons
4.  Combined Food Preparation and Serving Workers
5.  First-Line Supervisors of Retail Sales Workers
6.  Licensed Practical and Licensed Vocational Nurses
7.  Driver/Sales Workers
8.  Physicians and Surgeons
9.  General and Operations Managers
10. Customer Service Representatives
While seasonal work is ramping up before the holiday season, the need to hire skilled workers remains high. Registered Nurses are traditionally in high demand for the Coastal Bend region and that trend continues according to the latest Jobs Report. Over 200 job openings for Registered Nurses are currently available in WorkinTexas.com to help meet that health care demand. With an average rate of $31.00 hourly, Registered Nurses are among the highest earners in the region and continue to be one of the most sought out occupations by some of the region's largest employers such as the Corpus Christi Medical Center and CHRISTUS Spohn Health System.
If you would like to learn more about training opportunities provided by Workforce Solutions of the Coastal Bend or if looking for work, please call 361-882-7491 or 1-888-860-JOBS (5627) or visit http://workintexas.com. If you do not already have an account with WorkInTexas.com, you can register at http://bit.ly/WIT_Register.
Click here for the October 2019 Labor Market Information (LMI) Report.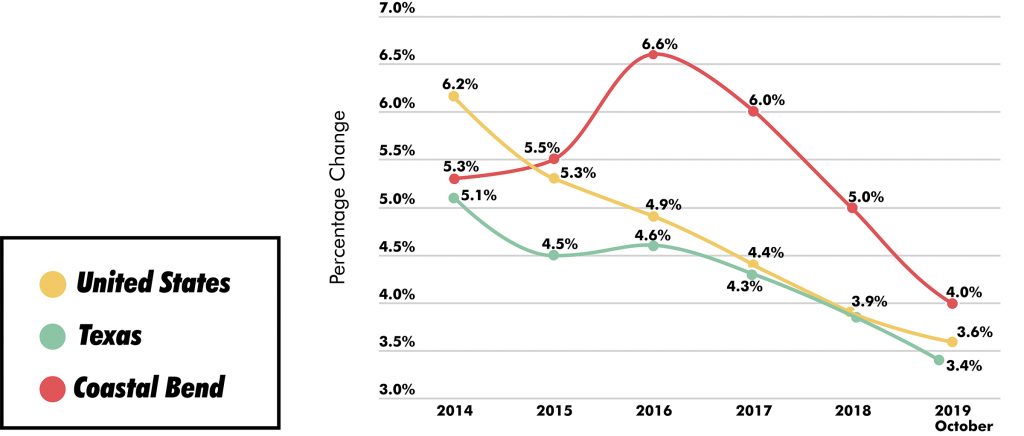 Labor Market Information Definitions
Not Seasonally Adjusted (Actual) – Data has not been subjected to the seasonal adjustment process. In other words, the effects of regular or seasonal patterns have not been removed from these series. Not seasonally adjusted data is available for smaller geographies, where seasonally adjusted is only available down to the state level. Use this data to view raw numbers, and for geographies smaller than state level.
Seasonally Adjusted – Total employment and unemployment vary throughout the year. For example, higher unemployment in January and February isn't uncommon because of work in agriculture, construction and other seasonal industries slowing down. Also, both employment and unemployment rise every June, when students enter the labor force in search of summer jobs. Seasonally adjusted numbers also take into account seasonal hiring/layoff patterns that go along with winter and summer holidays. Use this data for month-to-month comparisons for Texas and the United States.
Labor Force – Residents who are at least 16 years old, not serving in the military or institutionalized, and employed or seeking employment.

 Download Targeted Occupations List 2018-2019 (PDF)
The targeted occupations list is developed by Workforce Solutions of the Coastal Bend for the most effective use of local workforce development resources. Sources of information for the target list are local area employers, economic development entities, chambers of commerce, community partners, Texas Workforce Commission labor market information regarding the Coastal Bend Counties, and knowledge gained from continuous contact with the above sources.
Strategic Business Plan 2017 – 2020
Workforce Solutions of the Coastal Bend's Strategic Business Plan 2017 – 2020 has been updated to comply with Workforce Innovation and Opportunity Act (WIOA) regulations and is available for public comment until noon Tuesday, March 5, 2019.
Public comments can be provided to Amy Kiddy Villarreal, Deputy Executive Director, by email at amy.villarreal@workforcesolutionscb.org.
Two public listening sessions were held on Tuesday, February 26, 2019 at 10:00 a.m. at the Sunrise Career Center located at 5858 S.P.I.D., Suite 1 and 3:30 p.m. at the Staples Career Center located at 520 North Staples.

 Click Here To Download Strategic Business Plan 2017 – 2020
Local Labor Market Information
The Texas Workforce Commission collects information from Unemployment Insurance claims coupled with data from the Current Employment Statistics Program and data from other sources to produce estimates of total employment, unemployment, and unemployment rates for the 27 Metropolitan Statistical Areas, and all 254 counties in the state.
Each month, the Local Area Labor Market Information (LMI) is distributed to the Coastal Bend community. These rates are provided to a wide variety of users both inside and outside government and are used as a basic allocator for federal funding in many programs.
Check out the latest Local Labor Market Information (LMI) for the Coastal Bend.
CORPUS CHRISTI – Workforce Solutions of the Coastal Bend (WFSCB) will host its 6th Annual Child Care Directors Symposium on Saturday, July 20, 2019, from 8:00 a.m. to 4:30 p.m. at the Congressman Solomon P. Ortiz International Center located at 402 Harbor Street, in...
read more
Workforce Solutions of the Coastal Bend cordially invites you & your students to attend the YOU CHOOSE! Career Expo. High School Students and Educators will have an opportunity to: Explore In-Demand Careers in Healthcare, Business, Professional Skills and Trades,...
read more