Labor Market Intelligence
The Corpus Christi Metropolitan Statistical Area (MSA) unemployment rate increased to 5.8% according to the June 2022 Jobs Report. The unemployment rate for the Coastal Bend region rose from 5.2% to 5.9% over the month.
Due to the cyclical pattern of Education occupations in the Coastal Bend region, all 11 counties experienced increases in their unemployment rates over the month. However, over the year all 11 Coastal Bend counties decreased from June 2021. Jim Wells and Duval County both posted the largest yearly decreases in their unemployment rate dropping 3.9% from June 2021.
The Leisure and Hospitality Super Sector added 800 jobs in the Corpus Christi MSA while the Professional and Business Services Super Sector added 400 jobs over the month.
With seasonal work in full swing, the Retail Trade and Accommodation and Food Services industries continue to offer numerous job opportunities for job seekers.  Occupations such as Salespersons, and Restaurant Workers/Supervisors remain in high demand in the Coastal Bend region. With over 10,000 jobs currently available on WorkinTexas.com across all industry sectors, employers are offering multiple career options for job seekers looking for full-time or seasonal employment.
Call (361) 882-7491 or visit http://workintexas.com to register and start your job search today.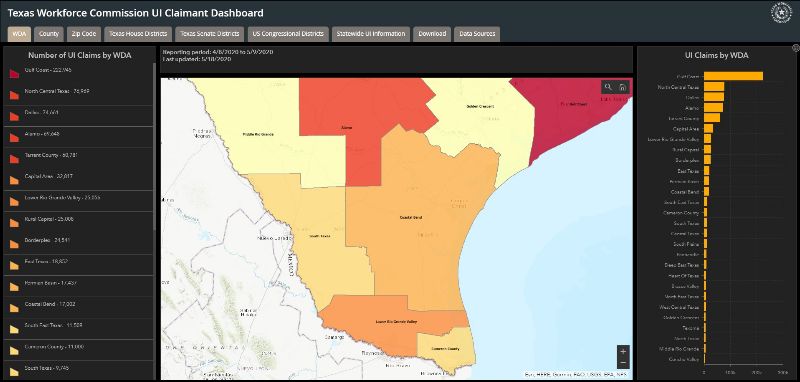 To see the latest 
Unemployment Insurance (UI) Claims Data,
 the Texas Workforce Commission (TWC) continues to update the UI Claimant Dashboard which is an interactive map with detailed information by Workforce Development Areas (WDA), County, Zip Code, Texas House Districts, Texas Senate Districts and U.S. Congressional Districts.
Workforce Professionals are available and ready to virtually assist customers with their job search from 8:00 a.m. – 5:00 p.m., Monday through Friday. VIRTUAL SERVICES ARE AVAILABLE. Please call or text (361) 882-7491 for assistance.
Labor Market Information Definitions
Not Seasonally Adjusted (Actual) – Data has not been subjected to the seasonal adjustment process. In other words, the effects of regular or seasonal patterns have not been removed from these series. Not seasonally adjusted data is available for smaller geographies, where seasonally adjusted is only available down to the state level. Use this data to view raw numbers, and for geographies smaller than state level.
Seasonally Adjusted – Total employment and unemployment vary throughout the year. For example, higher unemployment in January and February isn't uncommon because of work in agriculture, construction and other seasonal industries slowing down. Also, both employment and unemployment rise every June, when students enter the labor force in search of summer jobs. Seasonally adjusted numbers also take into account seasonal hiring/layoff patterns that go along with winter and summer holidays. Use this data for month-to-month comparisons for Texas and the United States.
Labor Force – Residents who are at least 16 years old, not serving in the military or institutionalized, and employed or seeking employment.

 Download Targeted Occupations List 2019-2021 (PDF)
The targeted occupations list is developed by Workforce Solutions of the Coastal Bend for the most effective use of local workforce development resources. Sources of information for the target list are local area employers, economic development entities, chambers of commerce, community partners, Texas Workforce Commission labor market information regarding the Coastal Bend Counties, and knowledge gained from continuous contact with the above sources.
Local Labor Market Information
The Texas Workforce Commission collects information from Unemployment Insurance claims coupled with data from the Current Employment Statistics Program and data from other sources to produce estimates of total employment, unemployment, and unemployment rates for the 27 Metropolitan Statistical Areas, and all 254 counties in the state.
Each month, the Local Area Labor Market Information (LMI) is distributed to the Coastal Bend community. These rates are provided to a wide variety of users both inside and outside government and are used as a basic allocator for federal funding in many programs.
Check out the latest Local Labor Market Information (LMI) for the Coastal Bend.