Board Of Directors
At Workforce Solutions of the Coastal Bend (WFSCB), we invest in our regional economic success through access to jobs, training, and employer services.
The Board of Directors represent the public throughout the 11-county region and are selected by the 11-County Chief Elected Officials Council.  51% of the Board membership represents private industry; the remaining membership includes representation from education, economic development, literacy and other local service agencies.
This comprehensive group of community leaders ensures WFSCB continues to serve the needs of both employers and job seekers throughout the Coastal Bend region.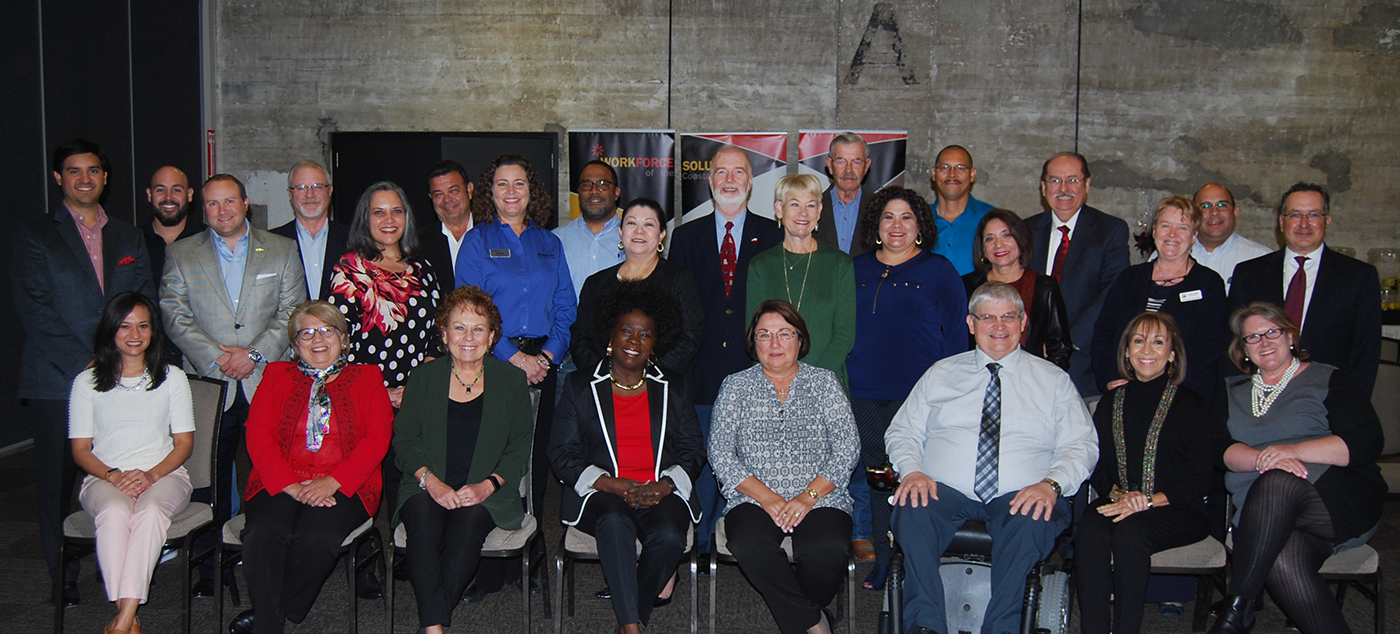 Board of Director Listing
Mary Z., Afuso
City of Corpus Christi
Mary V. Gleason
City of Corpus Christi
J.C. Perez III (Treasurer)
Jim Wells County
Noemi Aguilar
Bee County
Victor M. Gonzalez Jr. (Chair)
City of Corpus Christi
Verna Portis
City of Corpus Christi
Jason Alaniz
City of Corpus Christi
Vince Goodwine
Nueces County
Carlos Ramirez
Kleberg County
Gary Allsup
City of Corpus Christi
J.J. Johnston
jim Wells County
Manny Salazar
Kleberg County
Rosie Collin
San Patricio County
Parrish Jones (Secretary)
City of Corpus Christi
Edward Sample
City of Corpus Christi
Tracy Florence
Bee County
Kari Kelley
Aransas County
Adam B. Smith
City of Corpus Christi
Betty L. Garcia
Duval County
Marcia Keener
San Patricio County
Velma Soliz–Garcia
San Patricio County
Sara P. Garza
TWC/City of Corpus Christi
Joan McKaughan
San Patricio County
Stanley Tuttle
Refugio County
Jesse Gatewood
Nueces County
John W. Owen (Treasurer)
City of Corpus Christi
C. Michelle Unda
City of Corpus Christi
Randy Giesler
Live Oak County
Gloria D. Perez (Past Chair)
City of Corpus Christi
Catrina Wilson
City of Corpus Christi
CORPUS CHRISTI – Workforce Solutions of the Coastal Bend (WFSCB) will host its 4th Annual "Back To School" Teachers Fair from 8:00 a.m. to 5:00 p.m. on Saturday, August 19, 2017 at the Congressman Solomon P. Ortiz International Center located at 402 Harbor Drive in...
read more
Workforce Solutions of the Coastal Bend (WFSCB) is assisting workers displaced as a result of the disaster through mobile workforce units, employer assistance, and partnering with community-based organizations to provide relief workers. A $1.6 million National...
read more