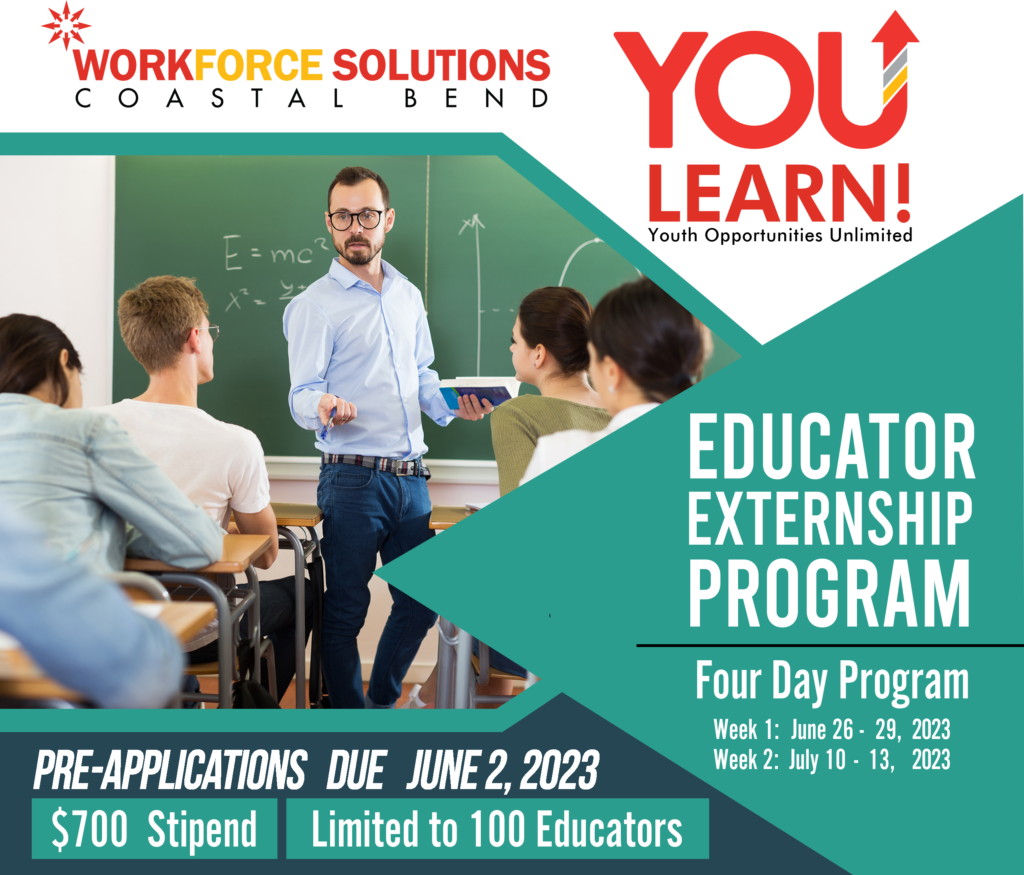 Educator Externship 2023
Educators and Counselors!! Interested in a $700 Stipend? The YOU! Learn Educator Externship Program is right around the corner and NOW is the time to register.
Coastal Bend educators are invited to participate in a one-week career and occupational experience to learn about in-demand industries in the region.
This program engages educators in activities geared toward learning about skillsets required for occupations in the Coastal Bend and how to apply them to a classroom curriculum.
Educators will learn how to use Labor Market Information to guide students for career-oriented decision-making.
At the conclusion of the program, educators will use what they have learned to develop lesson plans that will inform, educate, and allow students to experience a myriad of careers. Space is limited to the first 80 Coastal Bend educators and counselors. Click below to submit your pre-application!
---
Pre-Applications Due by June 2, 2023
Limited to 100 Educators
Week 1: June 20 – June 26 – 29
Week 2: July 11 – July 10 – 13
For More Information about enrolling in the program, educators contact Ann Vlach, E2E Special Projects Coordinator by email: avlach@edexcellence.org or phone (361) 945-0393
Employers are Invited to host educators at their place of business. Employers play a crucial role in providing a meaningful experience that educators can take back to the classroom. Employers may select their preferred week and how many educators they would like to have on-site for this valuable work experience.
If you are an employer interested in participating in this program please contact Veronica Ugues at veronica.ugues@workforcesolutionscb.org or call (361) 882-7491 ext.410.