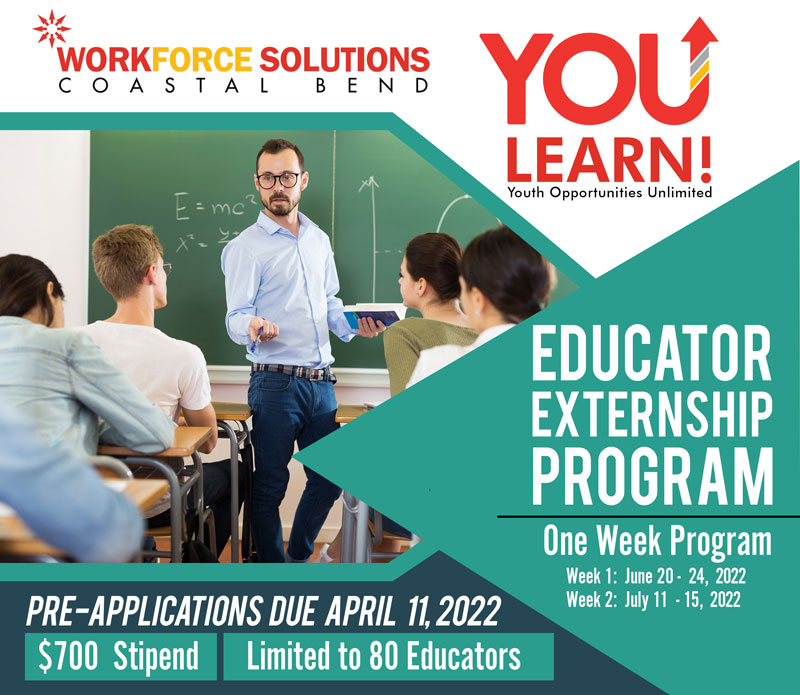 Educators and Counselors!! Interested in a $700 Stipend? The YOU! Learn Educator Externship Program is right around the corner and NOW is the time to register.
Middle through high school educators are invited to participate in the 2022 Youth Opportunities Unlimited (YOU) Learn! Educator Externship Program, where you will get hands-on experience in high-demand occupations in the region. This one-week career and occupational experience is designed to engage educators in activities geared toward understanding skillsets required for occupations in the Coastal Bend, as well as how to apply them to a classroom curriculum. Educators will also learn how to use Labor Market Information to guide students in career-oriented decision-making.
At the conclusion of the program, educators will use what they have learned to develop lesson plans that will inform, educate, and allow students to experience a myriad of careers. Space is limited to the first 80 Coastal Bend educators and counselors. Click below to submit your pre-application!

Pre-Applications Due by April 11, 2022
Limited to 80 Educators
Week 1: June 20 – June 24, 2022
Week 2: July 11 – July 15, 2022
For More Information about enrolling in the program, educators contact Ann Vlach, E2E Special Projects Coordinator by email:  avlach@edexcellence.org or phone (361) 945-0393
---
Employers are Invited to host educators at their place of business. Employers play a crucial role in providing a meaningful experience that educators can take back to the classroom. Employers may select their preferred week and how many educators they would like to have on-site for this valuable work experience.
If you are an employer interested in participating in this program please contact Veronica Ugues at veronica.ugues@workforcesolutionscb.org or call (361) 882-7491 ext.410.