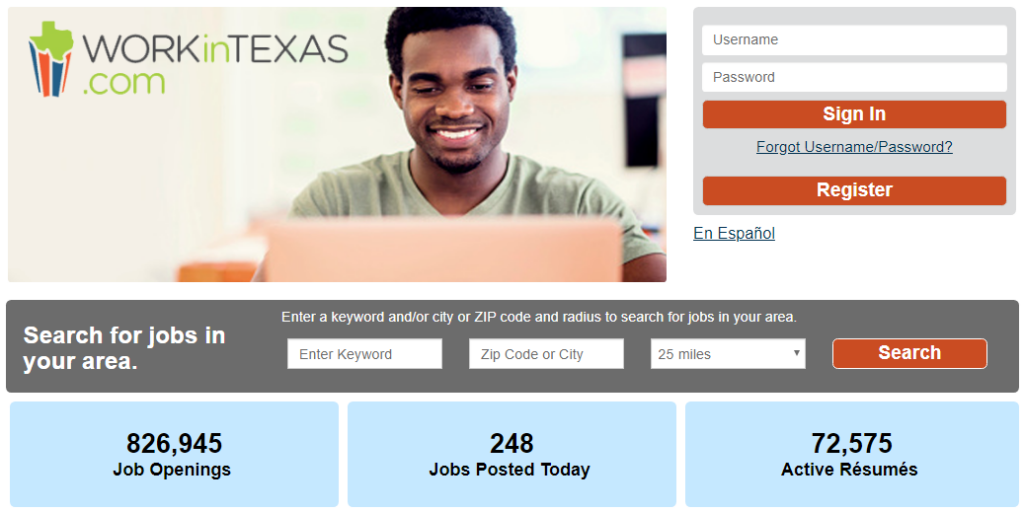 WorkInTexas.com is a powerful online job matching and workforce services system. It was specifically designed for job seekers, employers and students. The system provides fast access to a complete set of employment tools in one website.
WorkInTexas.com offers job seekers immediate and continuous access to job matching services. Even when job seekers are not logged on, WorkInTexas.com continues to match job openings with qualified job seekers and generates notices to alert them to potential job opportunities. Job seekers can also browse thousands of job postings, including all Texas state agency jobs, refer themselves to open positions, complete résumés and/or state applications and maintain them online.
Features to help job seekers and students within the system include:
•  Use a professional format to create and send résumés and cover letters to employers,
•  Assess your job skills, set goals, and research training providers,
•  Review available jobs and apply online,
•  Set up a Virtual Recruiter search agent to automatically review job postings and notify you of jobs that match your skills,
•  Track your job search efforts and résumés sent in a personal profile folder online,
•  Determine a budget and plan for training,
•  Research regional labor market information, such as salaries, and
•  Use the email/message center to contact employers and your case manager.
Employer users will find the following features helpful:
•  Define skills and post job orders to find potential candidates,
•  Research labor market information on salaries and economic data,
•  Set up a Virtual Recruiter search agent to automatically find candidates within the system that match the job skills of the job order, and
•  Communicate with job seekers, case managers, training providers, and others within the system email and message center.
Start your job search today at WorkInTexas.com