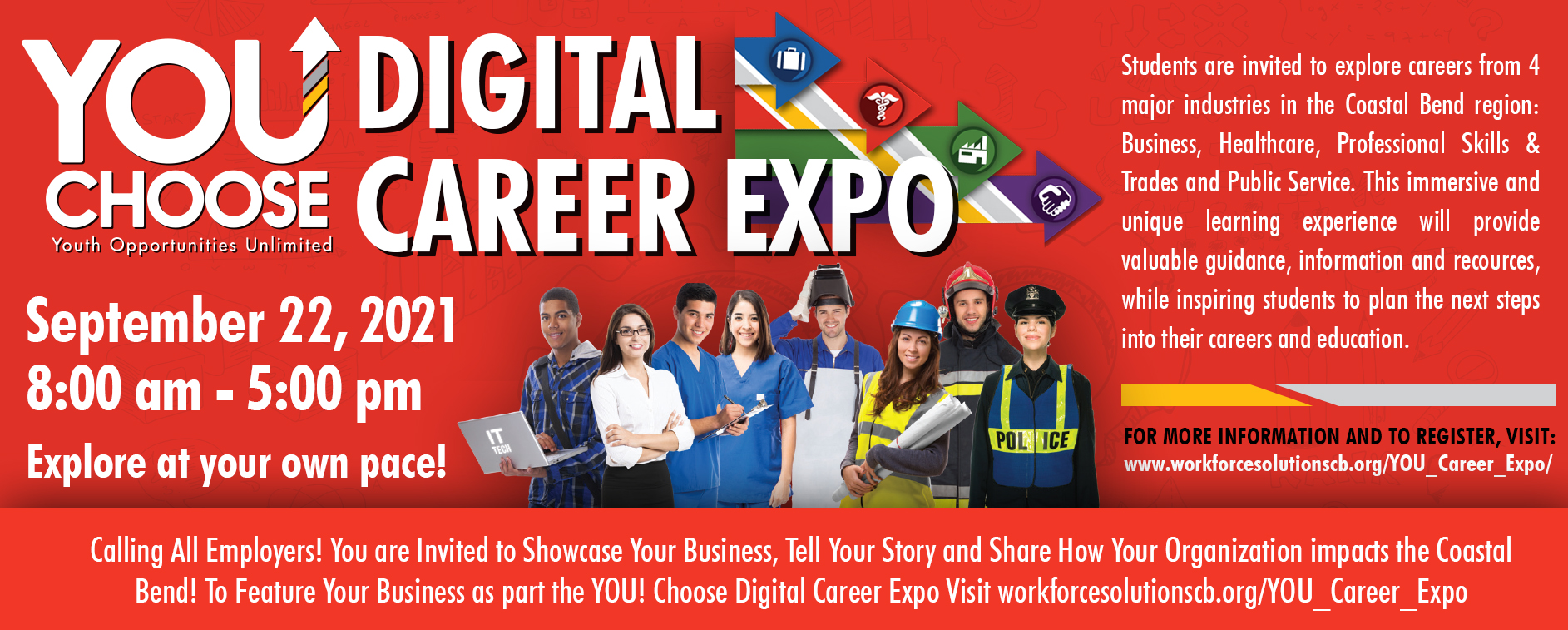 YOU Choose! Digital Career Expo 2021
Join us on September 22, 2021, for a Digital YOU Choose Career Expo! We are excited to premiere a new and engaging presentation platform that is sure to WOW your students with interactive tools, freedom to explore in their own way and engage with employers directly for a personalized networking experience.
Are YOU Ready? Save the Date!
September 22, 2021
Presentation & Digital Career Exploration: 9:00 am – 5:00 pm
Educators and Students! Click Here to Register!
For more details and information, please contact Catherine "Katie" Cole – (361) 885-3032
This exciting discussion and career exploration with local businesses is dedicated to inspiring Coastal Bend students to think about the next step into their future education and careers! Students will have the opportunity to hear from local employers from four major industries: Business, Healthcare, Professional Skills & Trades, and Public Service as they offer guidance from education to career. We invite you and your students to explore career options that are available right here in the Coastal Bend region.
This FREE event will provide valuable information to students about the region's in-demand occupations, empowering them to select career-focused endorsements and pathways as they prepare for life after graduation.
Guest Speakers – We have teamed up with local employers that are excited to demonstrate and discuss career paths in 4 industry sectors:  Business, Healthcare, Professional Skills & Trades, and Public Service. Our guest speakers are excited to share their stories, occupations, career guidance, and a deep dive into what day-to-day life is like within their organization.
Calling All Employers! You are Invited!
– Showcase Your Business!
– Tell Your Story!
– Share How Your Organization Impacts the Coastal Bend!
To Feature Your Business as part of the YOU! Choose Digital Career Expo, click below!
For more information please contact Esperanza, Vela, by phone (361) 882-7491 Ext. 243, or by email esperanza.vela@workforcesolutionscb.org
We highly encourage local employers to connect with and help us shape the future workforce. Together we can support local education and the community!