Child Care Services Update
7th Annual Directors Symposium
WFSCB is hosting the 7th Annual Directors Symposium virtually on Saturday, September 25, 2021, from 8:15 a.m. to 4:00 p.m. Training topics for this event will include breakout sessions on "Simple Budgeting and Practical Money-Management Skills for Child Care Centers"; "COVID-19 Updates" and "Social-Emotional Development". Child care directors, we look forward to seeing you at this event!
Child Care Directors and Assistant Directors can click here to register HERE
Texas Workforce Commission Updates
The Texas Workforce Commission has received funding that will enable Local Workforce Development Boards (LWDBs) to provide additional types of child care services designed to meet the needs of families and children in the Coastal Bend Region.  Workforce Solutions of the Coastal Bend will receive funding for "Initial Job Search Child Care" and "Service Industry Recovery (SIR) Child Care".
"Initial Job Search Child Care" will provide child care services for a parent seeking employment or engaging in job search and may end after a minimum of three months if the parent has not found employment.
"Service Industry Recovery (SIR) Child Care" addresses the impacts of COVID-19 and supports Texas' continued economic recovery and targets low-wage workers in TWC-specified service industries.  Customers for SIR child care services will receive child care services for 12 months.
Additional information regarding these child care services programs will be posted on the Board's website (www.workforcesolutionscb.org).
---
Parents participating in the Child Care Services (CCS) Program receive financial assistance to help pay for their children to attend a State licensed child care center, licensed child care home, or a listed relative child care provider. Child care services may be provided for children ranging in age from "0" to "12". Studies consistently show that children who receive quality care at an early age perform better overall. Moreover, parents who know their children are well-cared for are more focused and productive on the job.
WFSCB enrolls children into the CCS Program from the waitlist. Please visit our website at
www.workforcesolutionscb.org
and click on the Child Care tab to complete a waitlist application with your contact information so that you can be placed on our waitlist. A child care staff member will contact you to complete the eligibility process. If you have any questions, please call (361) 882-7491 ext. 426.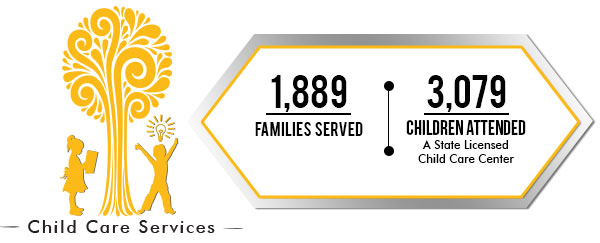 Income Guidelines
To be eligible, families must be below the following gross income limits:
Maximum Gross Income Eligibility for Child
Care Services – Effective October 1, 2020 through September 30, 2021

Family Size

Weekly

Bi-Weekly

Bi-Monthly

Monthly

2
$913
$1,826
$1,977
$3,954
3
$1,128
$2,256
$2,442
$4,884
4
$1,343
$2,685
$2,907
$5,814
5
$1,558
$3,115
$3,372
$6,744
6
$1,773
$3,545
$3,838
$7,675
To help process your request more quickly, please bring the following on your first visit:
If Employed: At least 6 of your most recent pay stubs or self-employment records (last 3 months).
In in School/Training: Current school schedule or proof of enrollment.
Records of Other Sources of Income: Temporary Assistance for Needy Families (TANF), Supplemental Security Income (SSI), and Child Support.
Documentation of Citizenship and Age: Birth Certificates or Medicaid.